FTTX Drop Flat Patch Cord
FTTH Drop Flat Patch Cord w/two FRP strength members.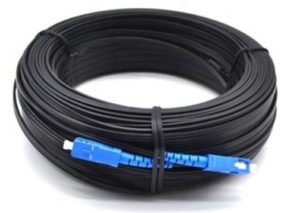 FTTH optical fiber patch cord is comprised of 1 or 2 fibers in classical drop flat design, supports high speed and broadband telecommunications, and offers an ideal solution for the smaller fiber counts that are needed in the final sections of an optical network. Two parallel FRP strength members protect the optical fibers. The cable is completed with an LSOH jacket.
Features:
Compact and light weight
Low bending loss, ideal access cable in PON project
Drop flat easy for cable allocation
Compliances:
ITU-T G657A1; ANSI/TIA 568.3-D; IEC-60332-1-2; RoHS
Specification:
Insertion loss: ≤ 0.3dB
Return loss: UPC≥50dB, APC≥60dB
Working wavelength: 1310-1550nm
Fiber Construction: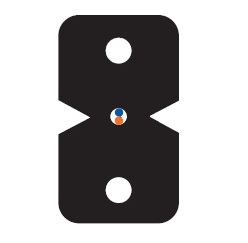 Ordering Information:
Part No.
2171wxyyyz
Description
FTTH drop flat patch cord, w/two FRP strength members,G657A1, LSOH, black
w, connector type(A)
1: SC/APC 4: LC/APC 6: SC/UPC 9: LC/UPC
x, connector type(B)
1: SC/APC 4: LC/APC 6: SC/UPC 9: LC/UPC
yyy, length
010: 1.0m, 020: 2.0m, 030: 3.0m, 050: 5.0m,

100: 10m, 200: 20m, 001: 100m, 002: 200m

z, fiber count
4: 1 core, 5: 2 cores
Open more information (click on the "+" sign below)
| | |
| --- | --- |
| 2171444004 | FTTH drop flat patch cord, w/two FRP strengthmembers, G657A1, LSOH, black, LC/APC to LC /APC,1C, 40m |
| 2171444005 | FTTH drop flat patch cord, w/two FRP strengthmembers, G657A1, LSOH, black, LC/APC to LC /APC,2C, 40m |

Peripheral Strength Member
Material
FRP
Diameter
0.5 mm
Sheath
Material / Color
LSOH / Black
Operating Temperature 
-20°C ~ +60°C

Fiber Count
Outer Diameter

(mm)

Crush Resistance
Tensile Load
Bend Radius
Short Term

(N/10cm)

Long Term

(N/10cm)

Short Term

(N)

Long Term

(N)

Static

(mm)

Dynamic

(mm)

1C
2.0X3.0±0.1
1000
500
80
40
15
30
2C
2.0X3.0±0.1
1000
500
80
40
15
30