Cat. 5e U/UTP Outdoor Installation Cable
Premium-Line Category 5e oil foam filled cable is ideal design for outdoor cabling. Each conductor is made of
annealed 24AWG bare copper, to guarantee the conductor elongation strength. The semi-solid compound
filling around each pair saves against water penetration and protects inner insulation from vile weather. The
cable is finished with excellent PE out sheath to ensure it could endure all weather condition in temperature
range -40°C ~60°C.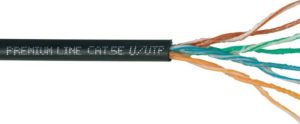 Standards:
Application:
1000BASE-T Gigabit Ethernet
100BASE-TX Fast Ethernet
10BASE-T
Voice, ISDN
Construction
Conductor
Material / size
Bare Copper / 24AWG
Insulation
Material
HDPE
Sheath
Material
PE
Filling Oil
Oil Foam
Mechanical & Environmental Characteristics
Bending Radius
≥ 6D, without load
≥8D, with load
Operation Temperature
-40 °C ~+60°C
Installation Temperature
-10 °C ~+50°C
Storage Temperature
-50 °C ~+70°C
Electrical Performance
Freq
Insertion Loss
NEXT
PS NEXT
ACR
ACR-F
PSACR-F
Return Loss
(MHz)
(dB)
(dB/100m)
(dB)
(dB)
(dB)
(dB)
(dB)
Nor.
Typ.
Nor.
Typ.
Nor.
Typ.
Nor.
Typ.
Nor.
Typ.
Nor.
Typ.
Nor.
Typ.
1.0
2.0
1.8
65.3
77.7
62.3
75.2
63.3
75.9
63.8
69.2
60.8
68.5
20.0
40.1
4.0
4.1
3.7
56.3
68.7
53.3
66.0
52.2
64.9
51.7
57.5
48.7
57.0
23.0
40.1
10.0
6.5
6.0
50.3
60.7
47.3
58.3
43.8
54.5
43.8
49.0
40.8
48.2
25.0
37.3
16.0
8.2
7.7
47.3
56.1
44.3
53.7
39.1
48.3
39.7
45.6
36.7
43.8
25.0
36.7
20.0
9.3
8.6
45.8
55.3
42.8
52.9
36.5
46.5
37.7
43.6
34.7
42.8
25.0
36.0
31.25
11.7
10.8
42.9
52.7
39.9
50.0
31.2
41.6
33.9
40.1
30.9
39.3
23.6
32.6
62.5
17.0
15.5
38.4
48.0
35.4
45.5
21.4
32.2
27.8
34.7
24.8
33.5
21.5
31.6
100.0
22.0
19.8
35.3
44.5
32.3
42.2
13.3
24.2
23.8
30.4
20.8
29.4
20.1
31.7
Category 5e U/UTP Outdoor Oil Foam
| | | |
| --- | --- | --- |
| PART NO. | DESCRIPTION | PACKING SIZE |
| 725143122 | Category 5e U/UTP Outdoor Installation Cable, Oil Foam, PE, -40°C, Black, 305m/reel | 35×35×21 cm |