Cat. 5e Shielded Outlet
Cat.5e shielded compact outlet, with shutter, 80*80mm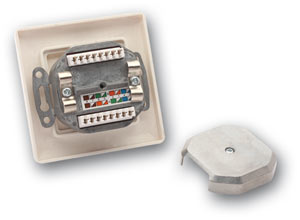 FEATURES:
Meets TIA/EIA-568.2-D, ISO/IEC 11801-1 and EN 50173-1 specification
Supports T568A & B wiring and easy installation
Dual type IDC connector can accept 22-26 AWG solid and stranded cable
Uniform standard size of German type
45°inclined port structure, plug-in-easy
Terminate using 110 or Krone tools
Dust-proof shutter design
RoHS compliant
Premium-Line compact outlet is in dedicated design for European market.
With the high electrical performance also the high quality physical material used for inner construction and outside appearance, it provides both easy and reliable field installation also real long time application. And in finished size 80×80mm.
Physical Characteristics
Plate
ABS, UL94 V-0
Top & Bottom Case
Zinc die casting alloys
Jack
Shielded: bronze with nickel plated
Plastic housing: engineering thermoplastic
IDC
Main body: PC, UL94 V-0
IDC Contacts:100μ inch nickel plated over phosphor bronze
Electrical Characteristics
Dielectric Strength
1000V RMS for 1min
Current Rating
1.5Amp Max.
Insulation Resistance
10MΩ Min.
Contact Resistance
2mΩ per contact
Temperature Range
-10°C to 60°C
Humidity
10%~90%; non condensing
Applications
10Base-T, 100Base-TX, 100Base-T4, 1000Base-T
ATM-25/ATM-51/ATM-155/100VG-AnyLan
TR-4/TR-16 Active/TR16 Passive
All the products are verified to the electrical characteristics required in the directive.
Category 5e Shielded Compact Outlet
| | | |
| --- | --- | --- |
| PART NO. | DESCRIPTION | PACKING SIZE |
| 111521281 | Premium-Line Cat.5e shielded compact outlet, with shutter, 80*80mm, RAL1013 | 51×29×26.5 cm |
| 111521291 | Premium-Line Cat.5e shielded compact outlet, with shutter, 80*80mm, RAL9010 | 51×29×26.5 cm |
Premium-Line compact outlet is in dedicated design for European market.
With the high electrical performance also the high quality physical material used for inner construction and outside appearance, it provides both easy and reliable field installation also real long time application. And in finished size 80×80mm.

Physical Characteristics
Plate
ABS, UL94 V-0
Jac
45° 8P8C RJ45 jack
Plastic housing: engineering thermoplastic
IDC
PC, Dual 8pin IDC
IDC Contacts:100μ inch nickel plated over phosphor bronze
Electrical Characteristics
Dielectric Strength
1000V RMS for 1min
Current Rating
1.5Amp Max.
Insulation Resistance
10MΩ Min.
Contact Resistance
2mΩ per contact
Temperature Range
-10°C to 60°C
Humidity
10%~90%; non condensing

Applications

10Base-T, 100Base-TX, 100Base-T4, 1000Base-T
ATM-25/ATM-51/ATM-155/100VG-AnyLan
TR-4/TR-16 Active/TR16 Passive

All the products are verified to the electrical characteristics required in the directive.

Category 5e Unshielded Compact Outlet

| | | |
| --- | --- | --- |
| PART NO. | DESCRIPTION | PACKING SIZE |
| 111511280 | Premium-Line Category 5e Unshielded Compact Outlet, 80×80mm, RAL1013 | 51×29×26.5 cm |
| 111511290 | Premium-Line Category 5e Unshielded Compact Outlet, 80×80mm, RAL9010 | 51×29×26.5 cm |