Aisle Containment System
Features:
The Aisle Containment System is a modular row-based thermal containment solution, which separates cold and hot datacenter air streams to and from equipment. It manages airflow at the source, Increases the cooling efficiency and significantly.
Row level thermal containment improves cooling efficiency and predictability to address zones and complete data center deployments.
Most parts of the aisle containment components are designed by modular, which allows quick deployment on site and address changing needs or future expansion with pay-as-you grow architecture.
The aisle containment is adaptable for Enhanced Network Server Cabinet (61586xyy2 or 61588xyy2)
Provide the right combination of safety and security, dual mechanical doors or sliding doors are available options.
Designed and built to provide high level security solutions for computer rooms, server rooms, and co-location data centers.
Dual Door
PART NO.
DESCRIPTION
619291002
47.2″(1200mm)W x 86.6″(2200mm)H Dual Mechanical doors,
Material: 4mm Toughened glass
619191002
47.2″(1200mm)W x 86.6″(2200mm)H Dual Sliding doors,
Material: 4mm Toughened glass
Note: Other sizes are available based on aisle width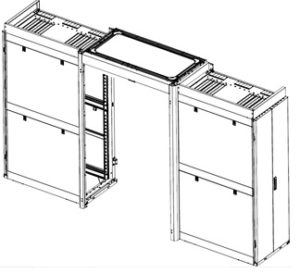 TOP ROOF
| | |
| --- | --- |
| PART NO. | DESCRIPTION |
| 619360002 | 600(W ) fixed top roof Material:4mm Toughened glass |
| 619380002 | 800(W ) fixed top roof Material:4mm Toughened glass |