New in the FTTH line: FTTX Drop Flat Patch Cord
15.06.2021
---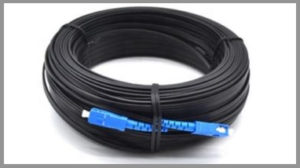 FTTH technologies have become commonplace, and they have proven to be very practical. Because these solutions are in demand there are requirements for more flexible approaches to build fiber-optic network and bringing the service to the end subscriber. As always, Premium-Line as a company offer its own range of solutions and we are constantly expanding our product line.
The optical patch cord is made on the basis of FTTH cable and consists of 1 or 2 fibers in a classic flat design, terminated and factory-polished optical connectors.
The main purpose is to connect subscribers in PON, FTTH and other optical networks with deep optical penetration without splicing. Two parallel fiberglass elements protect the optical fibers. The cable is equipped with an LSOH sheath.
Features:
Compact and light weight
Low bending loss, ideal access cable in PON project
Drop flat easy for cable allocation
Compliances:
ITU-T G657A1; ANSI/TIA 568.3-D; IEC-60332-1-2; RoHS
Read more technical details here.
You may also need: FTTX distribution box

For FTTH projects, we recommend this FTTX distribution boxes. The solution exists for 4, 8, 16, 24, 36 or 48 ports.
The optical network unit distribution of a residential building and the head power utility installation always requires compact design, easy installation and operation, as well as weather durable characteristics. Premium-Line FTTH distribution box is designed for multi-purpose applications in FTTH projects.
Please note that there are minor upgrades in these products, you can find the latest information here.
All registered users can download the updated datasheet.