Structured cabling system for the Faculty of Computing and Technology, University of Kelaniya
01.08.2023
---
The main project distributor and the organization of supplies – DCL Engineering Private Limited, www.dcleng.biz.

All cabling installations were implemented by VS Information Systems (Pvt) Ltd., https://vsis.lk
The PDF version of this article you can download here.
Introduction
The University of Kelaniya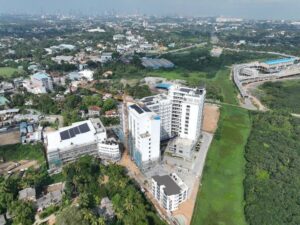 is one of the oldest and most prestigious universities in Sri Lanka. It was established in 1875 as the Vidyalankara Pirivena, a Buddhist educational institute, and was later elevated to the status of a university in 1959. The university is located in the Kelaniya town, in the western province of Sri Lanka. With a history of over 140 years, the University of Kelaniya has become a center of excellence for higher education in Sri Lanka.
Faculty of Computing and Technology, University of Kelaniya
The ICC-MAGA Joint Venture had taken on the task of designing and constructing a new building complex for the Faculty of Computing and Technology (FCT) at the University of Kelaniya. This collaborative project aimed to create a state-of-the-art facility that encompasses various components, including separate blocks for Administration, Academic, Laboratories, Auditorium, Student Centre, and Staff Quarters.
The project terms

The project of the new FCT building consists of many stages. In fact, FCT moves to the new building complex in Bulugaha Junction on January 2023. At this stage, the installation of the cable system is already completed. The complete construction completion is August 2023.
The new FCT complex features 20 lecture rooms, 24 seminar rooms, and over 40 laboratories, business units, and industrial collaboration centers. These spaces are dedicated to cutting-edge fields such as nanotechnology, data science, cyber security, bio-technology, robotics, sustainable energy, embedded systems, multimedia, game design, and animation.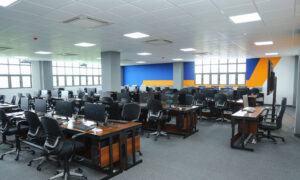 Engineered by the renowned firm Engineering Consultants (ECL), this groundbreaking faculty prioritizes the development of an innovative and user-friendly learning environment, integrating modern technology throughout. From a spacious central plaza at the heart of the complex to adaptable lecture rooms, formal and informal learning spaces, and more than 50 common areas for staff and students, the design fosters a dynamic and flexible atmosphere to encourage collaboration and active learning beyond the traditional classroom setting.
Nestled alongside a picturesque canal with scenic views, the faculty maximizes natural light, cross ventilation, and the surrounding environment. It incorporates both built and green screens, as well as devices to regulate light intensity and cooling costs. The sustainable and inclusive design also incorporates various eco-friendly features, such as solar panels, rainwater harvesting for landscaping, hybrid ventilation systems, and comprehensive waste-water and effluent treatment facilities.
The Faculty of Computing and Technology plays a vital role in providing Sri Lankan students with access to the fields of Computing and Technology. The new complex further enhances the FCT's reputation as a provider of innovative and industry-relevant technology education and research facilities. It also ensures the implementation of high-quality curriculum design, academic staffing aligned with international standards, and competitive grants schemes and capacity development opportunities, solidifying its position as a leading institution in the field.
Premium-Line Solutions:
Category 6 Solution:
150,000m of 24 AWG CAT6 LSOH cables
24 port Fully Loaded Patch Panels
CAT6 Path Cords
CAT6 Keystones and Face Plates
Fiber Optic Solution:
1KM of 6C MM OM3 Indoor FO Cables
1KM of 12C SM Outdoor FO Cables
24 Port 1U FO Patch Panels
Duplex LC-LC FO LSOH Patch Cords
The main project distributor and the organization of supplies –DCL Engineering Private Limited, www.dcleng.biz.

All cabling installations were implemented by VS Information Systems (Pvt) Ltd., https://vsis.lk
Premium-Line thanks its partners – the companies DCL Engineering Private Limited and VS Information Systems (Pvt) Ltd for their professionalism and wishes them further success and development.