Patina Maldives Fari Islands: A Luxurious Retreat in the Heart of the Indian Ocean
18.05.2023
---
Patina Maldives Fari Islands website: https://patinahotels.com/maldives-fari-islands/

All cabling installations were implemented by Octopus Systems Pvt Ltd, www.octopussystems.com.
The PDF version of this article you can download here.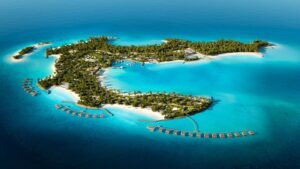 The resort is located on the North Male Atoll, just a short 50-minute speedboat ride from Velana International Airport. The resort boasts 90 exquisite villas, each with its private pool and outdoor deck, offering stunning views of the Indian Ocean.
The resort's architecture and design blend contemporary and traditional Maldivian styles, with open spaces and natural materials such as timber, thatch, and stone, creating a harmonious environment that reflects the natural beauty of the island.
The resort offers an array of facilities, including a private beach, a state-of-the-art gym, a spa, and several dining options, ensuring guests are entertained and pampered throughout their stay. For those who wish to explore the ocean's depths, the resort offers a PADI-certified dive center, where guests can take part in a variety of water sports and activities.
Accommodations
Each of the 90 villas at Patina Maldives Fari Islands – North Male Atoll is designed to provide guests with a luxurious and comfortable stay. The villas range in size from 110 square meters to 1,000 square meters and are categorized into seven different types, including beach villas, overwater villas, and two-bedroom pool villas.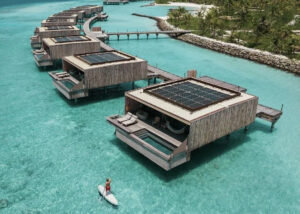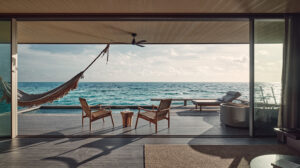 All villas come equipped with a range of modern amenities, including a flat-screen TV with satellite channels, an in-room safe, a minibar, and tea and coffee making facilities. Guests can enjoy high-speed Wi-Fi throughout their stay and can use the resort's iPad-based concierge service to request room service, make restaurant reservations, or book spa treatments.
The villas also feature spacious outdoor decks with comfortable seating, a private pool, and stunning views of the ocean. The outdoor decks are perfect for relaxing, sunbathing, or enjoying a meal in the open air. Guests can also take advantage of the villa's outdoor rain shower, which provides a refreshing and rejuvenating experience.
Technical infrastructure and service system
Patina Maldives Fari Islands – North Male Atoll is a resort that prides itself on providing its guests with an environmentally sustainable experience. The resort is equipped with a state-of-the-art water filtration system that allows it to reuse and recycle up to 70% of its water. The resort also has its own desalination plant, which ensures a steady supply of fresh water for its guests.
The resort's villas are built using sustainable materials, such as recycled timber and stone, and are equipped with energy-efficient lighting and air-conditioning systems, reducing their environmental impact. The resort also uses renewable energy sources, such as solar panels, to generate electricity.
The resort has also implemented a comprehensive waste management system, which includes composting, recycling, and responsible disposal, reducing the amount of waste that goes into landfills. Additionally, the resort has implemented sustainable food practices, sourcing its ingredients from local suppliers and practicing responsible fishing practices, ensuring that guests enjoy delicious and sustainable meals throughout their stay.
Structured Cable system installation
The project was implemented in 2021.
Premium-Line Solutions:
6 UTP Jelly Filled Cable – 13 km.
8-core 9/125 micron OS2 Single-mode Underground Fiber Optic Cable – 16 km.
24-core 9/125 micron OS2 Single- mode Underground Fiber Optic Cable – 22 km.
6 UTP Cable for vertical & horizontal cabling – 53 km.
Cable Management Panels
19" rack mountable fiber patch panels
Single-mode OS2 fiber patch cords
Single-mode SC Connector
6 UTP Patch Panels
6 RJ-45 Modular Jacks
6 Patch Cords
All cabling installations were implemented by Octopus Systems Pvt Ltd, www.octopussystems.com.
Premium-Line thanks the team of Octopus Systems Pvt Ltd for their professionalism, fruitful cooperation and wishes them further success and development.