Project success despite uncertainty: Cabling system for RTU Faculty of Civil Engineering
11.08.2022
---
Riga Technical University (RTU) is a modern, internationally recognized university. It is the only technical university in Latvia and the largest university in the country – it educates and trains almost 15 thousand students.
RTU Faculty of Civil Engineering provides academic and professional education in civil engineering, geodesy and cartography, as well as heat, gas, and water technology.
The faculty's building was commissioned in 1975 and it was used for the educational purposes. Remodeling and renovations were carried out as needed.
In 2019, the major renovation began. In fact, only supporting load-bearing structures and some walls were remaining from the old building. The roof, walls, ceilings, stairs, the entire interior, and external communications were designed and created anew.
---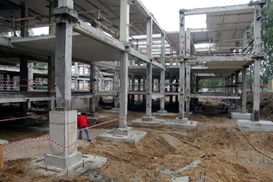 Working in unprecedented challenging conditions
One of the major challenges faced by this project was in connection with the COVID-19 restrictions. In 2020 the construction work had to stop for an indefinite period.
"Resources and deliveries were planned, there were team of engineers and installers who were ready to work. And in one moment, everything stopped at vague terms, this led to so many other challenges such as storage of equipment and cable products, we tried to be flexible and planned for short periods of time with constant revision of decisions made. Finally, work resumed at the beginning of 2021 and only in the summer of 2022 was the project completed".

Dmitrij Mazhurin
General Manager
"SYSTEM CABLE"
---
Project detail information
The main project distributor and the organization of supplies –"SYSTEM CABLE", systemcable.lv
All installations were implemented by "TEKA TELEKOM", www.teka.lv
| | | |
| --- | --- | --- |
| Premium-Line solutions that were installed | Unit | Pcs |
| Category 6 24port Unshielded Patch Panel | pc | 69 |
| Category 6 90° Unshielded Slim Keystone Jack | pc | 1749 |
| Category 6 U/UTP Installation Cable | m | 99771.8 |
| Category 6 Unshielded Patch 0.5 m | pc | 600 |
| Category 6 Unshielded Patch 1.0m | pc | 600 |
| Category 6 Unshielded Patch 2.0m | pc | 800 |
| Category 6 Unshielded Patch 5.0m | pc | 200 |
| Category 6 Unshielded Patch 10.0m | pc | 100 |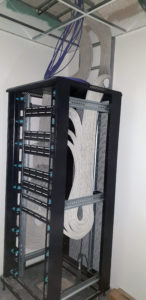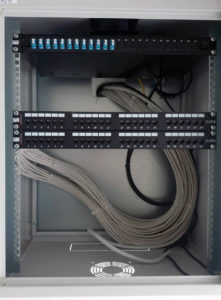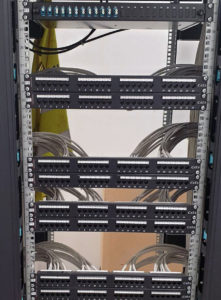 The cabling system of this project is covered by 25 Years System Warranty from Premium-Line, which is confirmed by the appropriate certificate.
Premium-Line thanks its partners – the companies "SYSTEM CABLE" and "TEKA TELEKOM" for their professionalism and wishes them further success and development.
Pdf version of this article can be downloaded here.