Partner Conference in Serbia – Premium-Line is getting closer
16.05.2019
---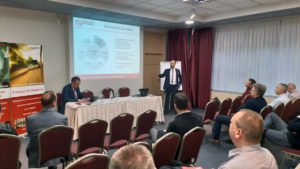 One of the aspects of the Premium-Line client-oriented strategy is to meet our partners in the real lofe, not just communicate by emails, Skype and messengers.
May 14, 2019, the Premium-Line partner conference was held in Belgrade at the Hotel Holiday Inn. The event was for the Serbian companies. This focus enabled us to pay attention to the specific needs and concerns of the certain country.
At the beginning of the conference, the Managing Director of Premium-Line Robert Grischany welcomed the audience and introduced the company and its team. The agenda included presentations on the structured cabling system topic and trends in the IT market development. The participants discussed the most actual issues, such as the service quality and cable system project design, training for IT specialists, pricing policy, logistics, equipment delivery cost optimization, as well as various options for partnership with the Premium-Line company.
Also the BICSI association representative took part in the conference. BICSI is a global professional association supporting the advancement of the information and communications technology (ICT) community. It provides education and training, standards and best practices, reference manuals and the participation in the Community. The Premium-Line company is the BISCI Continuing Education Credit Provider. The purpose of this cooperation is to create opportunities for learning, development and to help our partners to obtain relevant information about the market and technology. All this detail was described by Miodrag Kovanovic, Mainland Europe District Vice Chair of BICSI, in his presentation "BUSINESS AS USUAL? Jesmo li napredovali?".
Coffee chatting is one of the most effective communication that allow sharing the experiences. And we think it is the best way to know the true situation. That is why Premium-Line pay attention to such events and develop the "getting closer" approach.
The team thanks all the participants for the mutual cooperation and wishes them a lot of successful projects.
We are preparing the next events. Stay in touch with us!