Premium-Line on Light + Building Autumn Edition. After event note!
06.10.2022
---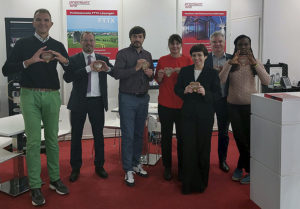 Light + Building Autumn Edition took place in Frankfurt am Main from October 2 to 6, 2022. The focus and main topics were on the main design and construction trends, intelligence, connected solutions and forward-looking technologies. Over 1,500 exhibitors from 46 countries participated at this great atmosphere, presenting their innovations at the industry get-together. They were market leaders who demonstrated the latest products for the worlds of lighting, electrical engineering, house and building automation as well as connected safety and security technology.
Premium-Line team participated in these activities. We showed our most relevant solutions such as multi-colored Slim Line Patch Cords, Fiber Optic Patch Cords LC Uniboot Push-pull, FTTx solutions, Cassette for HD fiber optic panel, angle and hybrid panels amongst others. We did a real installation and tested POE. For this, AEM TestPro were presented at our booth. AEM TestPro is the reasonable, specialized tester designed to guarantee that the digital network infrastructure is fully qualified to support the demands of IoT connected devices.
It was also very important to meet our Premium-Line team members and our partners from Europe. Real human interaction is what we have been missing lately however, thanks to events like this we are able to make up the loss of time.
It was an active and fun time. The after event video is for your attention.