Slim Type Category 6A Patch Cord: Go Slim & Save Space
04.11.2019
---
The space organization in the switching zone is a very important for structured cabling system. You need to take into account the needs and tasks of today and think about the prospects for expanding the network in the future. One of the popular approach is to use the cable management, when cables should be properly organized in the work area. It should be free access to each patch cord and the installation logic has to be carefully thought out. All these tasks are for installers and therefore we recommend choosing experienced companies to work for not to have problems with the structured cabling system using in the future.
The Premium-Line company helps to solve the problem of space organization in the switching zone and offers the solution – Slim Type Category 6A Patch Cord. It is mainly used in computers, routers, switches, telephone landlines and other network communications for data transmission. The smaller diameter of the cable helps to improve air flow around the equipment, and has a smaller bending radius, it makes it easier to manage cables in high-density areas.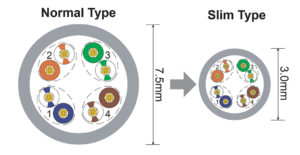 Go Slim & Save Space
SlimLine Cat.6A patch cord available U/UTP 3.0mm and U/FTP 3.5mm
Space saving to standard patch cords up to 6.4 times less for U/UTP and to 3 times less U/FTP
Smaller / less cable management
Better installation handling
Better air flow
Reduced weight and fire load
If you have any questions, do not hesitate to contact our team.