Premium-Line took part the in the BICSI EMEA Conference & Exhibition
19.11.2020
---
2020 is special and non-standard for everyone. It showed very vividly that it is important to be flexible and be able to adapt to the changing environment. On November 17 and 18, we participated in the online event – BICSI EMEA Conference & Exhibition as a Gold sponsor. The online format is largely the only alternative today.
BICSI is a community of IT-professionals. The participation in BICSI EMEA allowed us to listen to the reports of market experts, learn new solutions and development trends.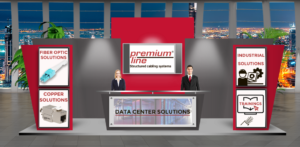 Online communication with participants did not have the same effect as regular communication. But this is an opportunity to find new partners, exchange contacts and discuss the main aspects of cooperation.
A special virtual platform supported the atmosphere of the event and helped to make it close to real.
We do our best to keep our finger on the pulse and are ready to use any opportunities for development and growth.
We thank the BICSI EMEA team for the good organization of the event.
Hopefully the future will give us more alternatives again for communication in real life soon.
Until then, let's use what we have.