The Premium-Line online academy launches its Designer Training Course
15.03.2021
---
Dear Partners,
We are constantly seeking to open up new opportunities and build cooperation on a mutually beneficial basis. This is why we offer additional value through e-learning.
Our online academy has launched a new training – the Premium-Line Designer Training Course – to help you update and organize your knowledge.
The course consists of the following units: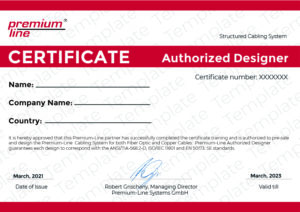 Copper Solutions – theory
Copper Solutions – product part
Solutions Calculator (copper solutions)
Data Center Solutions
Industrial Solutions
Cabling Planning
Installation Manual
Testing (copper solutions)
After completing the course and successfully passing the final test, you will have the opportunity to receive the Premium-Line Designer Certificate. To do this, you also need to take the Premium-Line Fiber Optic Training Course and pass the final test.
The Premium-Line Designer Certificate is valid for 2 years, after which it can be renewed by passing the appropriate online course.
Don't miss this unique opportunity to gain additional competitive advantages. The course is free and is delivered in English. To start training, all you have to do is register.