Floor-mounting features: Spring Type Floor Socket Outlet
02.10.2023
---
The traditional place for installing sockets of any type is walls. Height may vary and depends on the needs. Sometimes there is a need to install the source of the network connection away from the wall.
This happens in commercial, office and industrial premises. Their area is large, the walls can be located far from the workplace and equipment. There is a need to run the cable under the floor covering and bring out the sockets where they are needed.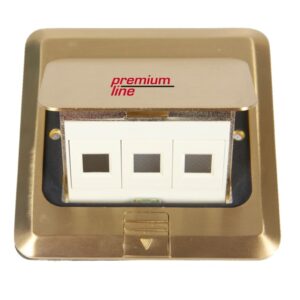 Just for such purposes, for floor mounting we offer the following solution – Spring Type Floor Socket Outlet, 3-Port.
Features:
Pop-up design, easy operation, and effectively protect socket internal structure
Economical & easy to install in-floor delivery system for large, open plan space
Water & dust proof construction
Accommodates 3pcs unshielded keystone jack or keystone type inline coupler
The bottom box is included
More technical information you can find here.