Data Center Cabling Design Course is now available
01.02.2023
---
Dear partners,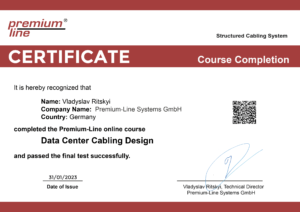 We are pleased to inform that a free online course on Data Centers is already available in the Premium-Line Academy.
The course program includes a theoretical part of the data center design, a review of standards, and reveals all issues related to the implementation of structured cable networks in this area. This is an opportunity to gain system knowledge and understand complex technical issues. In addition, the course is supplemented with an overview of Premium-Line solutions that can be used in the data center construction. Also, we have additional free online services, such as an online calculator, and Visio shapes, which are also presented in the course.
The course consists of 12 lectures – short videos of about 10 minutes each, a practical unit and a final test.
Information is presented very concisely, so that your time is used as efficiently as possible. The course is free. Only registration is required.
After completing the course and successfully passing the final test, you can immediately download the personal certificate. Each certificate of the Premium-Line academy has the QR code – a link that allows you to check the certificate authenticity.
Don't miss the opportunity to gain new knowledge. Register now!
Also, our new video is for your attention. This is a quick overview of the Data Center Solution Calculator, the online service that can help you quickly make specifications and save time. This service is free. Details how it works are in the video.
Thank you for your cooperation!