Cooperation with AEM: TestPro has accepted
02.02.2021
---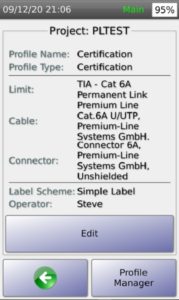 AEM is an international company that offers application-specific intelligent testing and processing solutions for semiconductor and IT companies operating in the advanced computing, 5G and artificial intelligence markets.
In cooperation with AEM, Premium-Line systems GmbH will develop, gain new experience and improve its solutions.
AEM TestPro can be officially used to test Premium-Line solutions
TestPro is the reasonable, specialized tester designed to guarantee that the digital network infrastructure is fully qualified to support the demands of IoT connected devices. for more details use the link: https://aem-test.com/products/testpro-100
The Premium-Line cable solutions have passed the AEM TestPro hence; our company is included on the list of Approved TestPro CV100 – Cable Manufacturer Warranty Program. As a result, our customers can use AEM TestPro to get the Premium-Line 25-year warranty.
We hope this information is useful to you.
Keep in mind this new opportunity and thank you for your cooperation.