Break installation limitations with the Premium-Line DIN Rail Adapter
21.02.2019
---
Dear partners!
You have probably dealt with projects where a 35 mm DIN rail is the preferred platform for installation. It used for small buildings or distribution cabinets for industrial and residential premises, where controllers, network connectors, electro and other technical components are required. But what to do if you need to install RJ45, LC Duplex and SC Simplex connections as well? In such cases, Premium-Line Systems offers a simple and convenient solution for cabinet and field installations. The DIN Rail Adapter is at your service.
What to know! The classic DIN-rail was developed in Germany, where it quickly gained a high level of popularity and the status of the national standard of Deutsches Institut fur Normung. DIN Rail is currently popular solution worldwide.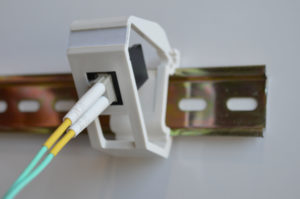 The main features of the Premium-Line DIN Rail Adapter for RJ45 Keystone Jack are:
Suitable for Premium-Line 180° keystone jack (except P/N 106524010, 105524010)
Suitable for LC/Duplex or SC/Simplex adapter with adapter support module P/N127120000
DIN rail mounting
Easy port description by removable labels in plastic holders
Assembly without special tools
Color: RAL9003
Material: ABS
RoHS compliant
If you have any questions, please feel free to contact us.