ВО патч-корд LC Uniboot
FO Patch Cord LC Uniboot Duplex Push-pull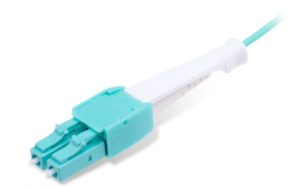 A Uniboot connector that comes with a Push-Pull tab, which can be used in a high-density environment. Comparing to the conventional duplex connector, the design is more compact, as well as just one cable was used, which helps to improve the hot air flow in a high density and a crowed environment. Premium-Line did a unique design to reach in the highest density in the industry.
FEATURE:

The push-pull design ensure easier release from HD environment
Avoid cable twine together
Easy polarity revisable
Cable diameter:2.0mm
IEC61754-20 and GR-326-Core complaint
RoHS/REACH & UL94-V0 inflammability complaint
APPLICATION:
Telecom network
Ethernet network
Optical communication equipment
DRAWING:

Easy Polarity Revisable
Allows the fiber polarity to be switched without
the need for special tools.

ORDERING INFORMATION:
Part No.
21knxyzzz5
Description:
Fiber optic patch cord LC uniboot, push-pull type
k, fiber mode:
1: 62.5/125um 2: 50/125um 3: SM 9/125um
4: OM3 50/125um 9: OM4 50/125um 8: OM5 50/125um
n, outer sheath
7: PVC, 2.0mm 8: LSOH, 2.0mm
x, connector type(A)
4: LC/APC 9: LC/UPC
y, connector type(B)
4: LC/APC 9: LC/UPC
zzz, length:
010: 1m, 020: 2m, 030: 3m, 050: 5m, 070: 7m,

100: 10m, 150: 15m, 200: 20m, 900: 90m
Find more info in this video presentation.
Open more information (click on the "+" sign below)
Items
Single mode
Multi mode
Insertion Loss
≤0.3dB
≤0.3dB
Return Loss
≥50dB(UPC); ≥60dB(APC)
≥30dB
Ceramic ferrule spec
125.5um concentricity deviations:<1um
127um concentricity deviations:

<3um

Insert-pull test
500times<0.3dB
Operation temperature
-40℃~+85℃
Suitable fiber
UPC/APC(9/125um)
UPC (50/125um,62.5/125um)

| | |
| --- | --- |
| 2198990105 | LC/UPC-LC/UPC Uniboot Duplex OM4, push-pull type, 2.0mm, LSOH, 1M |
| 2198990205 | LC/UPC-LC/UPC Uniboot Duplex OM4, push-pull type, 2.0mm, LSOH, 2M |
| 2198990305 | LC/UPC-LC/UPC Uniboot Duplex OM4, push-pull type, 2.0mm, LSOH, 3M |
| 2198990505 | LC/UPC-LC/UPC Uniboot Duplex OM4, push-pull type, 2.0mm, LSOH, 5M |
| 2198990705 | LC/UPC-LC/UPC Uniboot Duplex OM4, push-pull type, 2.0mm, LSOH, 7M |
| 2198991005 | LC/UPC-LC/UPC Uniboot Duplex OM4, push-pull type, 2.0mm, LSOH, 10M |
| | |
| 2128990105 | LC/UPC-LC/UPC Uniboot Duplex OM2, push-pull type, 2.0mm, LSOH, 1M |
| 2128990205 | LC/UPC-LC/UPC Uniboot Duplex OM2, push-pull type, 2.0mm, LSOH, 2M |
| 2128990305 | LC/UPC-LC/UPC Uniboot Duplex OM2, push-pull type, 2.0mm, LSOH, 3M |
| 2128990505 | LC/UPC-LC/UPC Uniboot Duplex OM2, push-pull type, 2.0mm, LSOH, 5M |
| 2128990705 | LC/UPC-LC/UPC Uniboot Duplex OM2, push-pull type, 2.0mm, LSOH, 7M |
| 2128991005 | LC/UPC-LC/UPC Uniboot Duplex OM2, push-pull type, 2.0mm, LSOH, 10M |
| | |
| 2148990105 | LC/UPC-LC/UPC Uniboot Duplex OM3, push-pull type, 2.0mm, LSOH, 1M |
| 2148990205 | LC/UPC-LC/UPC Uniboot Duplex OM3, push-pull type, 2.0mm, LSOH, 2M |
| 2148990305 | LC/UPC-LC/UPC Uniboot Duplex OM3, push-pull type, 2.0mm, LSOH, 3M |
| 2148990505 | LC/UPC-LC/UPC Uniboot Duplex OM3, push-pull type, 2.0mm, LSOH, 5M |
| 2148990705 | LC/UPC-LC/UPC Uniboot Duplex OM3, push-pull type, 2.0mm, LSOH, 7M |
| 2148991005 | LC/UPC-LC/UPC Uniboot Duplex OM3, push-pull type, 2.0mm, LSOH, 10M |
| | |
| 2138990105 | LC/UPC-LC/UPC Uniboot Duplex SM, push-pull type, 2.0mm, LSOH, 1M |
| 2138990205 | LC/UPC-LC/UPC Uniboot Duplex SM, push-pull type, 2.0mm, LSOH, 2M |
| 2138990305 | LC/UPC-LC/UPC Uniboot Duplex SM, push-pull type, 2.0mm, LSOH, 3M |
| 2138990505 | LC/UPC-LC/UPC Uniboot Duplex SM, push-pull type, 2.0mm, LSOH, 5M |
| 2138990705 | LC/UPC-LC/UPC Uniboot Duplex SM, push-pull type, 2.0mm, LSOH, 7M |
| 2138991005 | LC/UPC-LC/UPC Uniboot Duplex SM, push-pull type, 2.0mm, LSOH, 10M |